This was our 4th Thanksgiving without Joel and our first since launching our earthbound kids into adulthood and moving 700 miles for a new assignment.
The Lord answered our prayers and the kids were able to get off work and drive up together for their first visit to our new home. It will probably be awhile before we get to see them again, so I try to enjoy them as much as I can when I do.
In March, our oldest plans to move over 1,600 miles to start his first job after earning his masters in biology. We are all excited for him.. and sad, too. I've been working hard at accepting God's plans over my dreams for our family.
We had a nice visit. The most important things were unpacked. Cooking Thanksgiving was made more challenging by our recent move. It took me more than a few tries to find where I'd put all those special pots and pans.
Cooking has never been my thing, but Thanksgiving is the kids' favorite holiday. They love to eat, so I've worked hard to learn how to make their favorite foods.
I always miss Joel a great deal while cooking for Thanksgiving. Just a couple of weeks before we lost him, he came in the kitchen with his chin up, took in a big whiff of all the pleasant Thanksgiving smells, nodded his approval and asked, "How is everything coming?"
Joel's nod meant a lot to me. It was his way of playfully saying that he loved and appreciated me. I bantered back by enlisting him to set the table. He was a willing helper.
This Thanksgiving, I positioned one of our favorite photos of Joel on the mantle, so I could look up and feel like he was with us in spirit. When we circled up in the living room to pray before dinner, I imagined Joel smiling and praying with us.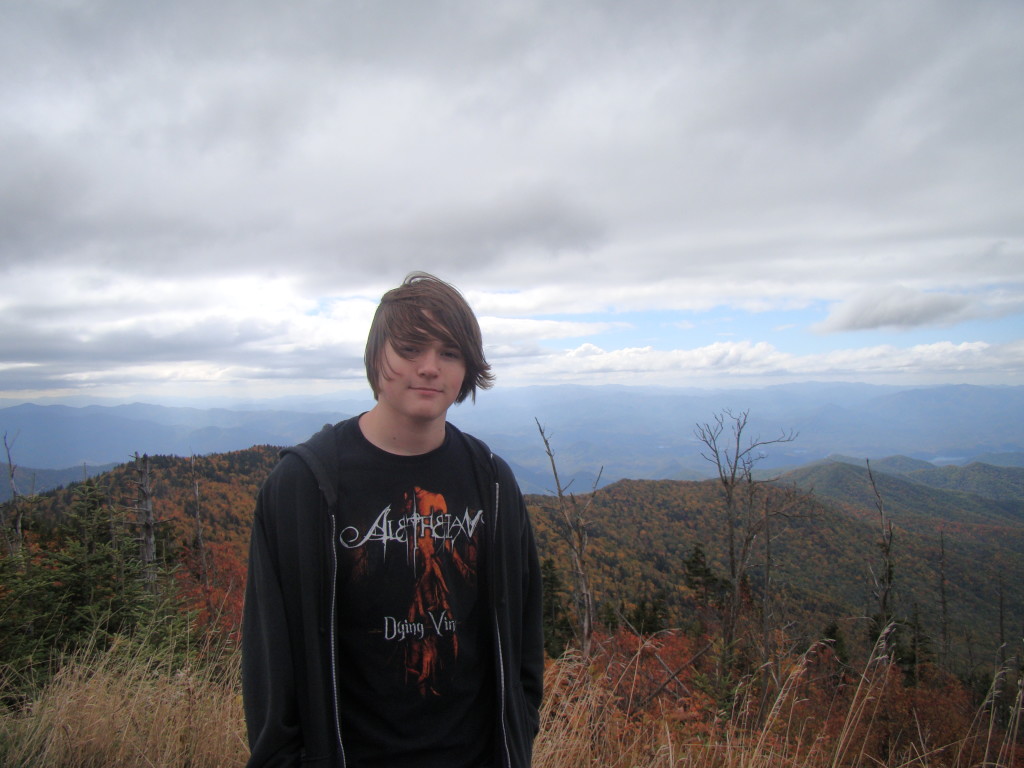 The kids stayed for several days. It was so nice having them here. Our new house is 1000 ft smaller, yet didn't feel too crowded. Moving away from the kids has felt so surreal that I wasn't sure how their visit would feel. I was pleasantly pleased that it wasn't strange at all, but familiar and almost right (still missing the one who has gone ahead to our real home in Heaven).
I saw a quote by Randy Alcorn the other day. In it, he quotes a verse the Lord gave me when my children were small. It's a verse I have leaned into a great deal. My favorite version says:
"All your children will be taught by the Lord Himself and great will be their peace." Isaiah 54:13
As a homeschool mom, I knew I wasn't enough. No matter how much I taught them, there were going to be things that they could only learn from God Himself.
More than anything, my prayer has been that God would give my children a hunger to know and love Him. That He would be their all in all. That He would give Himself to them and supply them with love, wisdom and strength to face the storms ahead. That He would surround them with His peace.
When we lost Joel, my heart was crushed and I felt like God had blasted me with a resounding, "No!" My ability to pray for their safety was shattered. It "ting, tings" against a delicate, glass ceiling in my heart even today. One day, I hope that I will be able to pray freely again. For now, I continue to pray for them to be taught, strengthened and loved by God Himself.
Randy Alcorn has helped solidify Heaven for us through His books; giving us a more eternal perspective. When we first lost Joel, Heaven felt so ethereal that it was hard for us to imagine. Randy from his Heaven book:
How glorious it will be for grandchildren and grandparents—and great-grandchildren and great-grandparents who never knew each other before—to enjoy their youth together in the cities, fields, hillsides, and waters of the New Earth. To walk together, discover together, be amazed together—and praise Jesus together. "All your children shall be taught by the LORD, and great shall be the peace of your children" (Isaiah 54:13).
The Bible instructs us to set our hearts and minds on things above:
Colossians 3:1 Since, then, you have been raised with Christ, set your hearts on things above, where Christ is, seated at the right hand of God. 2 Set your minds on things above, not on earthly things. 3 For you died, and your life is now hidden with Christ in God. 4 When Christ, who is your life, appears, then you also will appear with him in glory.
.. To fix our eyes on the unseen:
2 Corinthians 4:16 Therefore we do not lose heart. Though outwardly we are wasting away, yet inwardly we are being renewed day by day. 17 For our light and momentary troubles are achieving for us an eternal glory that far outweighs them all. 18 So we fix our eyes not on what is seen, but on what is unseen, since what is seen is temporary, but what is unseen is eternal.
Things seen for me: Joel shot to death by a stranger with an AK-47. Joel's body in a grave; separated from us.
Things unseen: God working all things together for good, Joel alive in Heaven, Jesus in our midst, His return, our bodily resurrection, our happy reunion, an eternal glory that far outweighs our earthly troubles, everything in Heaven and in the New Earth to come.
My eyes are often weary from all the peering through this present darkness to things unseen.
Now we see things imperfectly, like puzzling reflections in a mirror, but then we will see everything with perfect clarity. All that I know now is partial and incomplete, but then I will know everything completely, just as God now knows me completely. 1 Corinthians 13:12
Ever so often, Holy Spirit will drop into my heart a snapshot of the unseen things Joel is enjoying in Heaven to cheer and encourage me. It's a little like getting postcards from Heaven.
The very first image I got was of Joel receiving a fiery chariot for his first Christmas in Heaven. Have you ever imagined never having another car payment or repair bill? That's the dream Joel is living now.. And his car can fly! I could see him taking it out for a joyride with no fear of danger, just pure joy and freedom.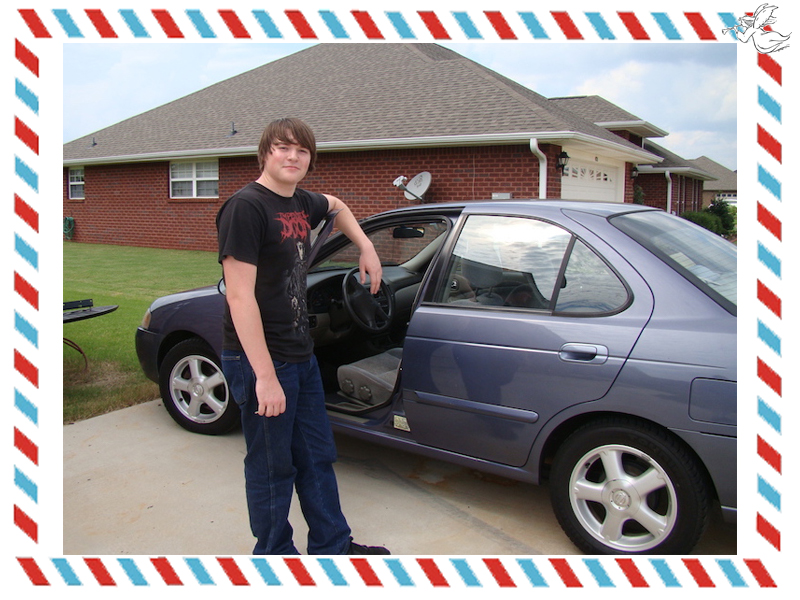 Sometimes Holy Spirit will drop the name of musician like Larry Norman, Bach, Johnny Cash or David on my heart. I can see Joel jamming with them, learning how to play new songs and cords, worshiping and praising Jesus and our Heavenly Father.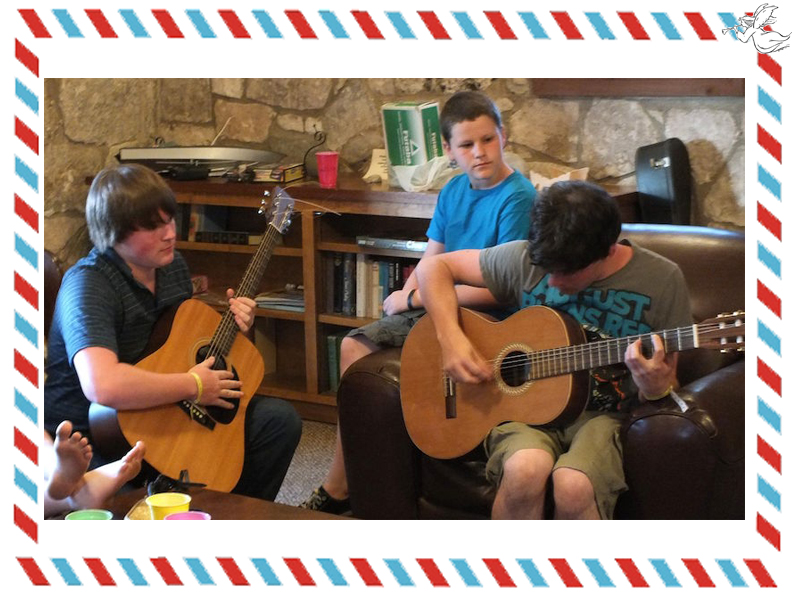 I can see Joel hiking in Heaven. Enjoying it's beauty. I can see him walking on water with Peter and looking at me like "It's a cinch." I can see him dancing wildly with Jesus. Once, I got a snapshot of Joel fishing with his great-grandfather. I can see him hanging out, telling stories, toasting something better than marshmallows and laughing around a campfire.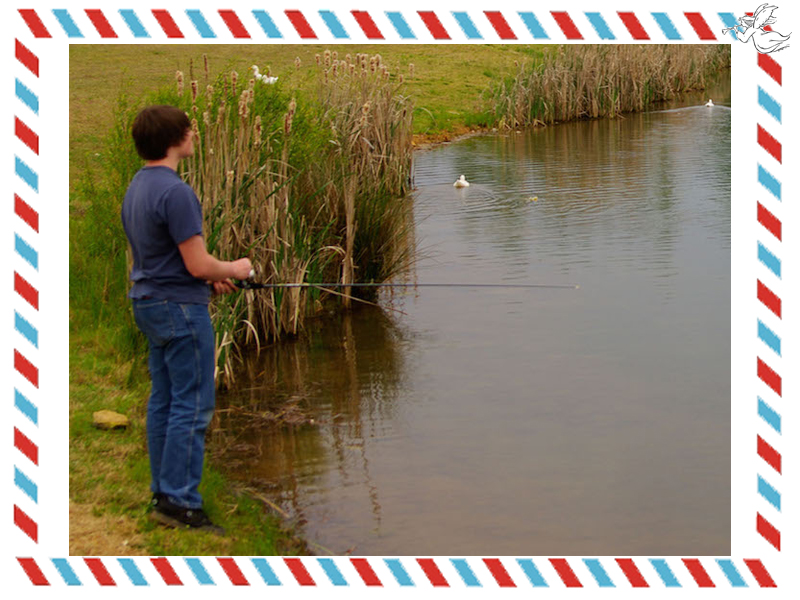 We went with the kids to the Chickasaw Cultural Center Saturday and learned how their dances are prayers to their creator who will return one day from the East. Mike and I danced and prayed with them. We have one great, great, great grandparent each who was Native American. I can almost see Joel with his Native American family in Heaven, learning and performing their dances/prayers around a fire, calling out in those high yells and low groans.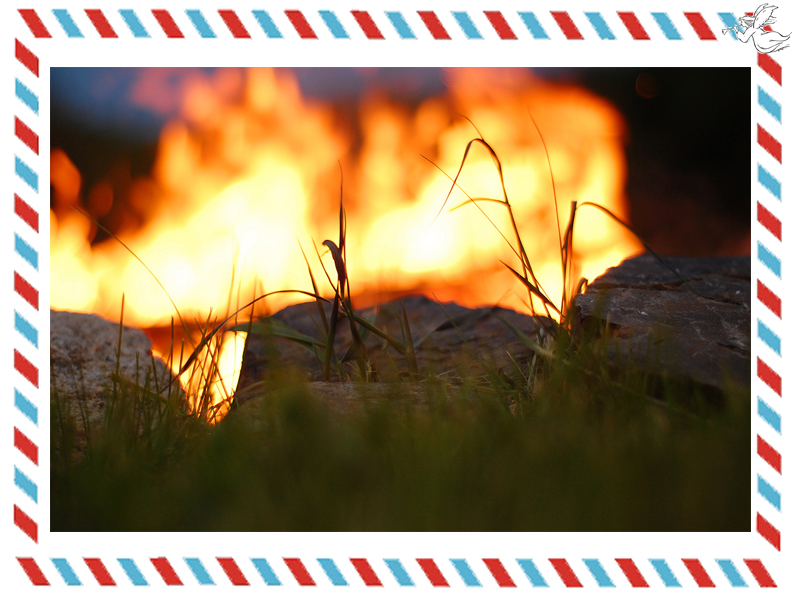 My heart isn't ready for Joel's upcoming Heaven Day or another Christmas without him, but Holy Spirit is such a good and kind comforter. He knows just what I need… to see the unseen, to set my mind and heart on things above. He will be with us in the storms to come. My eyes will be fixed on Jesus and He will surround us with His peace.
Love and prayers,
Jenny