In April, I posted about the collection of favorite verses
and confessions that I was rewriting into praise.
You can read the post
here
.
Now I am going to tell you what I did with them and how they help me
focus on the kind of thankfulness that fills me with joy.
I've been taking collections of verses and turning them into mini books
that I can carry with me in my purse to read and/or give away for a while now…
More about that in my next post..
When I first was diagnosed with breast cancer, I took all
the healing verses I had collected over the years and found a wonderful
PDF put together by Joyce Meyer on healing confessions (her link)
and made them into a mini book .. I read and researched it more
than I did the stuff on breast cancer.. I had to to keep my sanity. 🙂
This time I wanted something different. I wanted to be able to have them
a little more accessible than in a book.. eventually I'd like to have
them hanging on the wall and have a plan for that ..
a project for when I am feeling better.. 🙂
As I re-wrote the verses. I used photo shop to turn my verses into little colored, round tags.
This was great therapy because I got to spend so much time with each verse.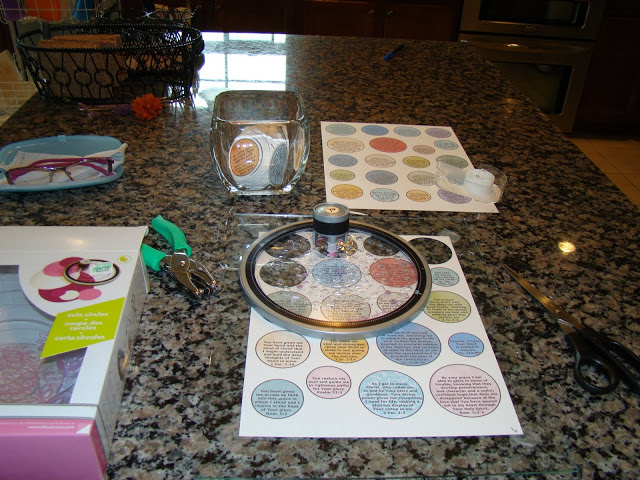 Then I used this great circle cutter by EK Success
that I got at Hobby Lobby for 40% off to cut them out
and put them in this little bowl.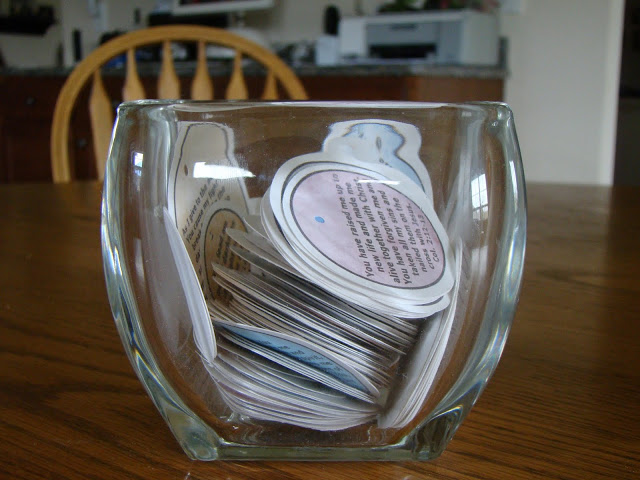 I took them with me to the hospital..
they are great.. like popping pills of joyful praise. 🙂
You are my Comforter (Counselor, Helper, Intercessor, Advocate, Strengthener,
and Standby), who abides with me forever; John 14:16
Reading them out loud works wonders.
Sometimes I re-read the same one several times
to make sure it soaks in real good.
I am filled with hope when I remember that Your great love never ends and that
Your tender compassions never fail. Lamentations 3:21-22
The more I read them the more joyful I am.
I love that I can pull them out of the bowl at random.
On bad days, I make it a point to stop and read more often than others.
I will not be wise in my own eyes, but worship You alone and turn from evil.
It is healing to my body and refreshment to my bones. Proverbs 3:7-8
Love,
Jenny