Judi came in the house today laughing and said, "Help, Mom, I might need a hair cut."
I had to look twice before I understood what was going on.
She had the weed eater caught in her hair!
I ran for the camera.. thought I'd help make a memory, but she ran into my bedroom and locked me out before I could get a photo.
Through the laughter and tears we were able to get her hair untangled bit by bit and didn't have to cut it. 🙂 Thank God for engine oil.
She's a fast learner: A ponytail for yard work.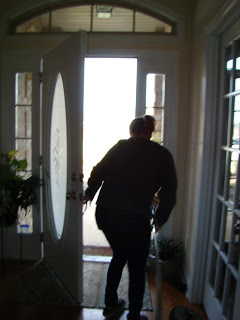 I did get one photo.. of her running out of the house with her weed eater free ponytail.
While finishing up the yard, a spider bit her.. she's such a trooper. A shower and a little lavender oil and she was off to work at the Y. again.
Hope your day was better,
Jenny