Yesterday morning, Mike asked me when I was going to have the trash can the tornado ripped apart picked up. I made the call a second time. It isn't easy to arrange a pick up for when you are home and they won't forget. I realized, too that it's the trash can Joel took the trash out to.. the trash can Joel went and found after the tornadoes.. the trash can Joel duct taped together.. the trash can Joel brought into the garage on Wednesday nights.
It's hard. Should I even allow myself go down that thought path? I
didn't yesterday morning and here I am now at almost 3 AM. Maybe it's
better just to do the hard thing and allow myself to grieve even over the
trash can that is so easily replaced.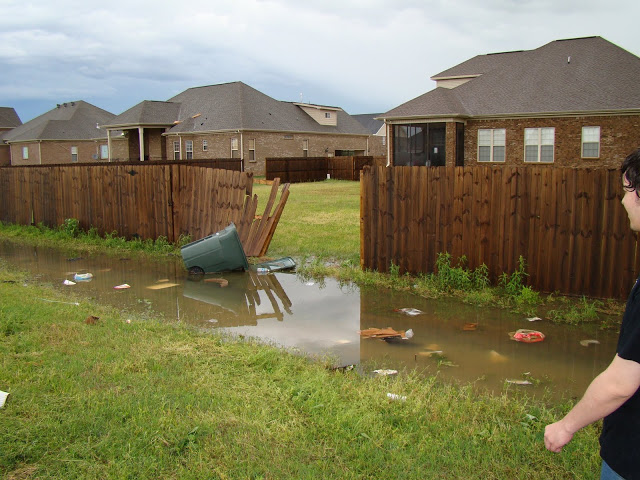 Joel going to fish a trash can out of the April 2011 mess.
I had books (Choosing to See by Mary Beth Chapman, Heaven, and If God is Good by Randy Acorn) on hold at the library yesterday, so I went to pick them up on the way home from the chiropractor. The best route was the route Joel took the day that he totaled his car. I decided to take it.. to re-live it.. to face it. It was hard before Joel went home; harder now. I am so thankful that the city put in a much needed red light in response to Joel's accident.
On the way home from the library, I chose another hard path; through the neighborhood just north of ours where I taught our three youngest how to drive just two years ago. We spent so much time in that blue van. Judi tipped one of the mail boxes on one trial run. I learned a lot about self denial and control in that neighborhood. I continue choosing to make myself do hard things, hoping that they will become easier with practice.
Mike planned this year's vacations around Josh's school schedule. We had originally thought we would spread Joel's ashes in the Smoky Mountains during Spring Break, but Josh was unable get off from his new stocking job at Walmart and we decided we just weren't ready.. weren't sure it was the right thing to do, so we're waiting for wisdom, peace and more grace.
Judi
and James had the beginning of the week off so we took them and a few
of Judi's friends up to Pigeon Forge to stay in a cabin. It was a hard trip not
only because of our original plan but also because Mike and I had spent the
beginning of Joel's last week on earth in Pigeon Forge. We were glad
to have the girls there as an extra distraction.
The girls on the cabin stairs. Miranda on top, Rebekah, Judi and Nichole.
Spring Break, Mike's birthday and Passover all fell on the same week this year. I spent some time meditating on Jesus our Passover Lamb as I do each year while preparing to share the meaning of Passover in light of Jesus' sacrifice. That Monday night was our first Passover without Joel.
I
explained to Judi's friends that Passover is a Jewish day of
thanksgiving to God for their deliverance from slavery and bondage, and
that Jesus is God's own dear Lamb sacrificed for our sins so that we
could be invited to join His family and enjoy deliverance from slavery
and bondage to sin.
Our Passover Table in Florida.
In the midst of my thoughts on Jesus' and Joel's deaths I found myself living with no will to live. I had just spent the week before coming to terms with the fact that it might be 60 years before I see Joel again. I had to accept that I could be in this for the long haul. Remembering the events leading up to Good Friday, the week of Jesus'
death, and His sacrifice as I was reliving the week of Joel's death in Pigeon Forge was
not something I had planned. I needed the will to keep on living.
I began praying over and over, "Lord, if you are going to continue to leave me here to live, please, give me the 'will and the do' for it."
"For God is working in you, giving you the desire and the power to do what pleases him."
Philippians 2:13
Finally, the Holy Spirit reminded me how God had instructed me to think of Joel when I was struggling early on. He had said, "Think of Joel as having pushed ahead of you in the race.. and crossing the finish line in front of you."
Meditating on this thought worked quickly to renew my mind; gave me hope and light. It gives me joy to think of myself in a race with Joel, to think of Joel at the finish line waiting for me. It reminds me to keep my eyes on Jesus, resurrected and beautiful, Lamb on the throne, and it gives me the courage I need to run with perseverance.
Favorite picture of Joel in the Smokys.
"Therefore we also, since we are surrounded by so great a cloud of witnesses, let us lay aside every weight, and the sin which so easily entangles, and let us run with perseverance the race that is marked out for us. Let us fix our eyes on Jesus, the author and perfecter of our faith, Who for the joy set before Him endured the cross, scorning it's shame, and sat down at the right hand of the throne of God." Hebrews 12:1-2
I remembered last night that Joel was several years old before he could pronounce his name properly. For the longest time, he would say his name was "Goel" with a hard "g" sound .. trying to get the "J" sound out right.


Then I realized, that his early mispronunciation was actually a real word with meaning: "Goal." I will forever remember Joel and goal together now.. as I run my race, reaching towards my goal.
"I press on toward the goal to win the prize for which God has called me heavenward in Christ Jesus." Philippians 3:14
"Blessed is the one who perseveres under trial because, having stood the
test, that person will receive the crown of life that the Lord has
promised to those who love him." James 1:12
The long trip back Wednesday afternoon to our present home without Joel was still very difficult and filled with tears, but thinking of Joel at the end of his race in his true home did add hope and joy to my deep sorrow. Maybe our next Passover will be in the New Jerusalem.
Love,
Jenny