With a new addition to the family, comes a lot of new stuff. First thing we got was
a Litter Kwitter. I told the Judi if she'd toilet train the cat I'd pay her $50.
It'll save us probably $1000 in cat litter and I know I'd be the one cleaning it
for years to come if I weren't paying her..
so I am actually feeling guilty about the steal I am making.
The cat in the add photo is a Russian Blue like George. I am even more hopeful.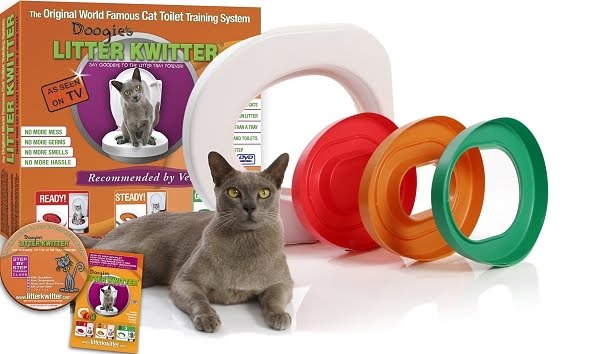 Then we got her some flushable litter, food, food bowls and a collar.
We looked around at food bowls. The ugly ones designed for pets cost around $5 each.
I decided to look at bowls designed for humans in Target. They are so much cheeper!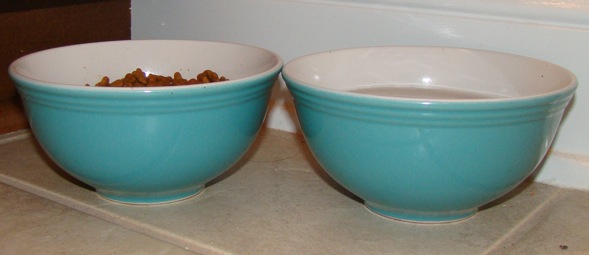 I knew I had this fir at home, and had planned on making her a bed.
I remember when Mamalene used it to make Ruthie a cat costume one year.
I made it so that it opens at the ends and can be used as a tunnel, too.
She loves it; knew it was hers right away.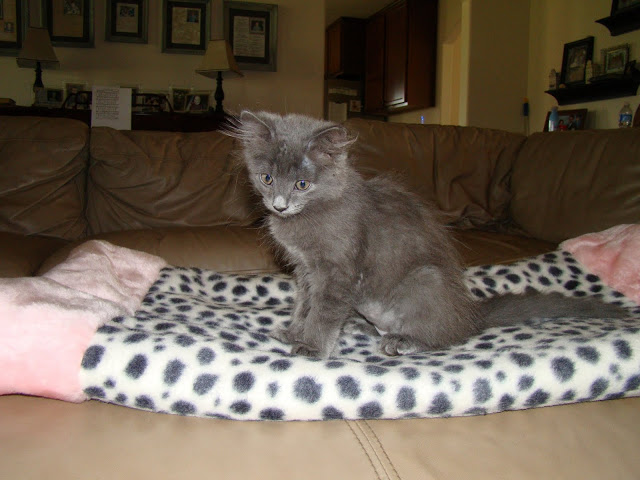 I knew I needed to do something about a scratching post.
I don't want my furniture torn to shreds and I'd prefer not to have to declaw her.
Have I shown you the lamp I got a few months ago? We needed some light
on this side of the living room. George thinks it's great. She even climbed up from
the inside of it one night when it was turned on and made a cool shadow.
Sorry no picture.
She's also been climbing the curtains next too it.
See the threads she's puled? I trimmed her nails.. it's helped a little.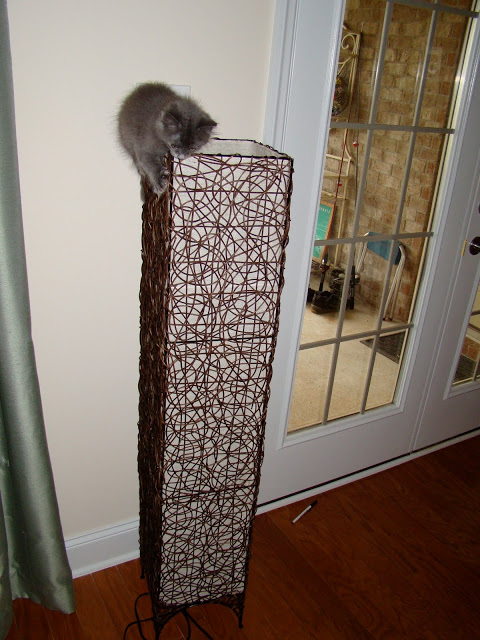 They are ugly, take too much space, cost a fortune and
I am sure that the moment George climbed up it
Sally would chase her and it'd come tumbling down.
So I discovered these cat walk climbing shelves and thought to myself,
"I could make those." I tried to make it a Father's Day surprise for Mike,
but he noticed right away all the money I was spending at Lowes.
I think I spent around $60 total for all the supplies. It would have cost less
had I not been low on sand paper and left
my wood stain and mineral spirits at our old house.
I found a rug for $12 at TJ Max for the scratching/climbing boards.
I used velcro to keep the mats on the shelves so she won't slide right off.
George loves it! She was climbing it before I had it finished.
The first day she climbed up and took a nap on this shelf.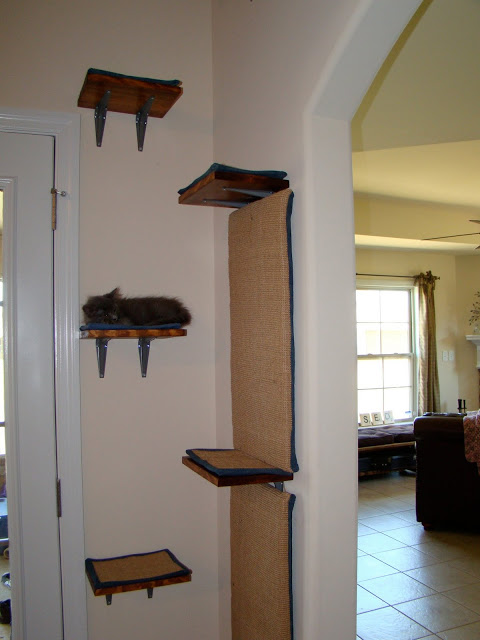 I made her a ball with some left over fur and she like's it, too.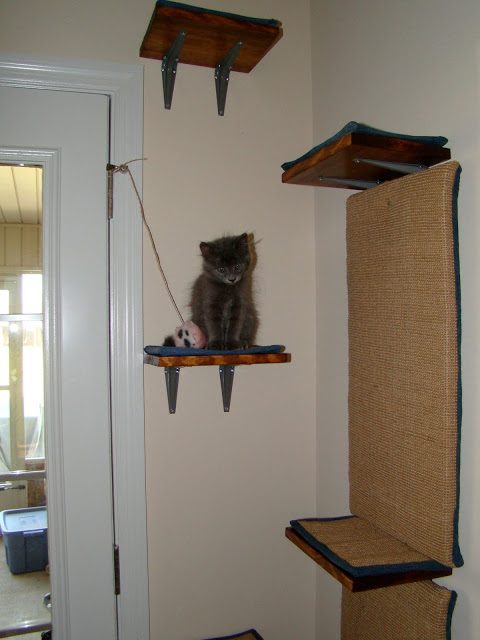 Here she goes.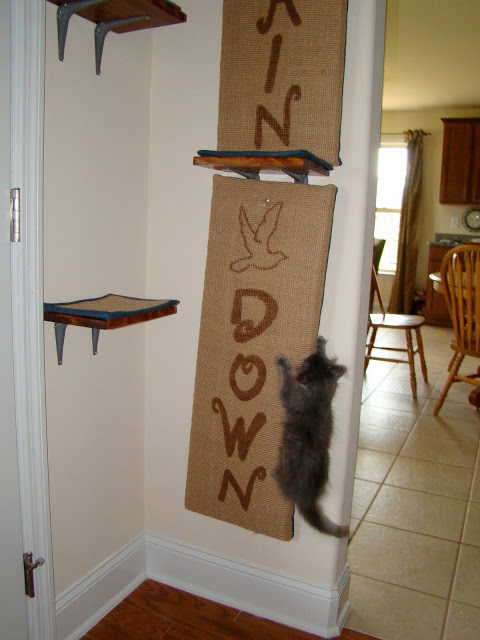 I purposely put the shelf at a height where
she can bat at the kids heads as they walk by.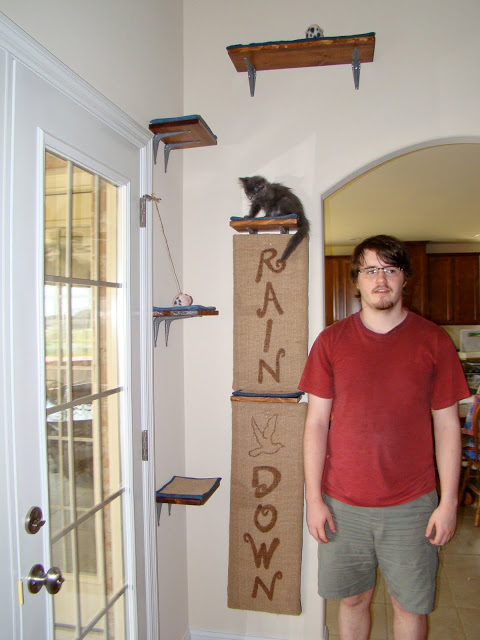 So if you're tall, Beware!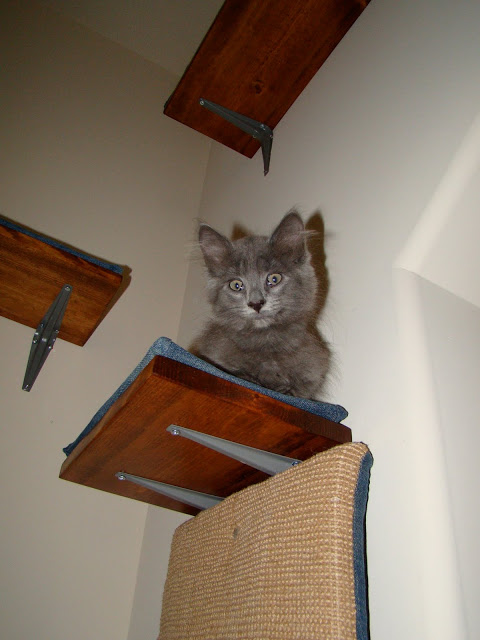 See Joel in the picture below? He's working on Trig/Calculus.
Anytime he asks for help, I just laugh.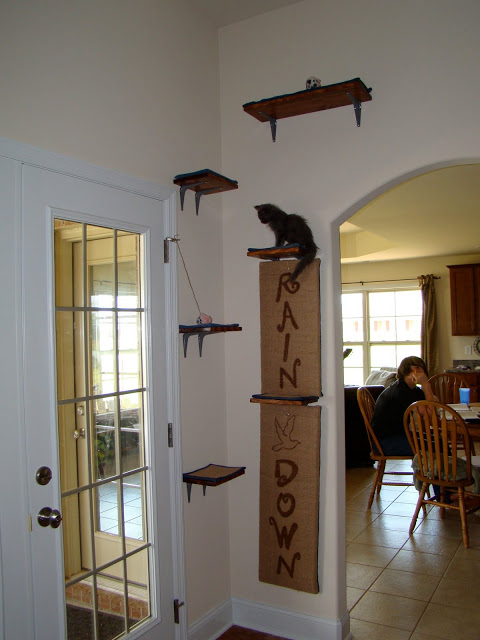 I took the opportunity to use Georgia's play place as graphic/prayer art.
It's centrally located where if we catch her clawing
one of our couches (or lamp or curtains) or jumping up on a counter
we can easily take her over to her scratching post.
I told the kids that it's her time out spot.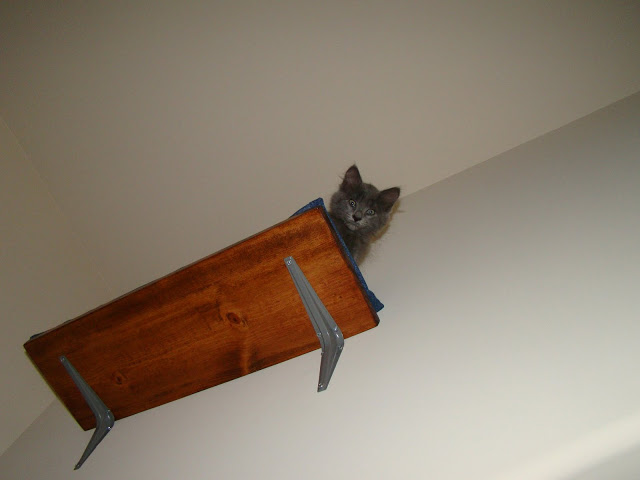 James put her other ball on the top shelf.
Georgie not quite big enough to climb up there by herself,
but she's already twice as big as when we got her so it won't be long,
and she can jump from shelf to shelf to get down.
Hope you're having a great weekend.
Love,
J