I made some Ratatouille last night. It was our first time to have any.
I always wondered what the fuss was about in the movie with mouse.
It was awesome!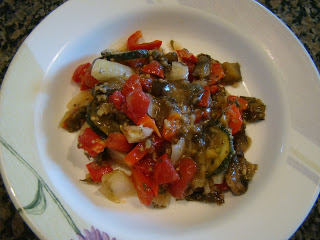 It even got four stars.. meaning all the kids liked it.
Each kid gets a star (an up or down vote).
If I make something and it gets 3-4 stars, I keep it in our family recipe stash.
I found the recipe on All Recipes while looking for something
to do with the eggplant I got at the Farmer's Market on Saturday.
I love eggplant; need to buy it more often.
Love,
Jenny