It's dawned on me this past year that I come from a family of city folks; I am city folk.
How did I get to be this old and just now realize that?
You see, my dad grew up on a farm, but then moved to the city and married a city girl (who knew how to garden and from time to time had one going). I spent a few summers with grandparents and great grandparents gardening and such, so I guess I had a illusion that I came from a family of country folk and would some day have a garden of my own. Then I married this city boy who never visited grandparents on a farm or a ranch, who never gardened. Every house, every move I've thought, "I grow a garden in this back yard."
I've tried a couple of gardens. Our first house in San Antonio had a garden when we moved in; it was a pretty big garden for a city yard; I forgot to water it; it didn't survive. We planted tomatoes at our second house in San Antonio. Then we got a microscope for the kids for homeschool. When I saw the creatures crawling all over the tomatoes under our microscope, I wished I hadn't, and those plants died. In Florida, we spent many hours in the yard pulling up or cutting back vines. Who thought living in the jungle was a good idea?
The first couple of months here I looked on line to see what kind of things grow well here; looked to see if I could adopt a country friend to teach me how to grow things then I realized maybe I won't have a garden at this house. A few months ago in history we learned how during the Great Depression everyone knew how to grow food and most had a garden that they lived on in the hard times; I realized that if it ever gets that bad we are going to starve.
We have worked in a couple of other people's gardens. At the San Antonio Botanical Gardens they have a program for the poor city kids to teach them how to garden that we participated in a few seasons. Then in FL we had a good friend that hired the kids to work in her mother's garden. So I am hoping that maybe they know something about how to survive.
Just a few more Mo Ranch photos…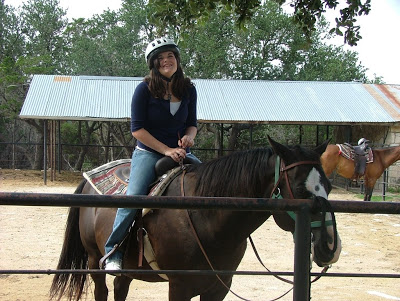 The day after the Ropes Course the kids got to go horse back riding.
Seeing that we come from a family of city folk … that was pretty exciting…
even for the bigger kids who pretended like it wasn't a big deal.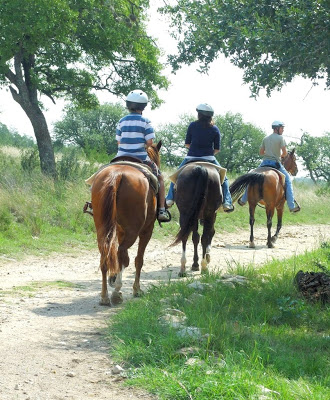 The first two riders took a hour ride up and down the hills.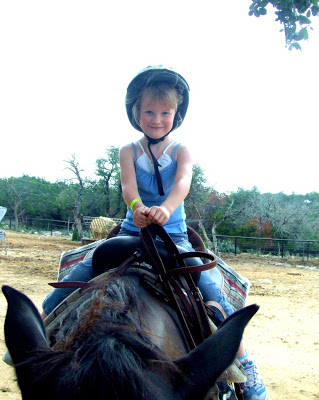 Precious!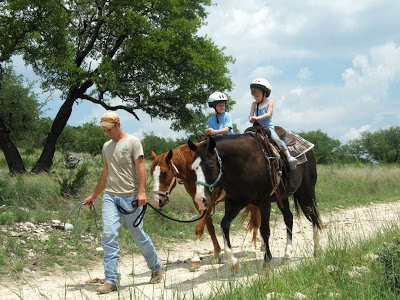 Don't they look like they are having fun?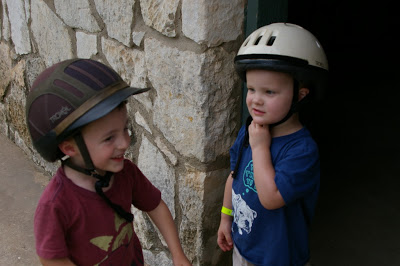 Riding with a cousin doubles your fun.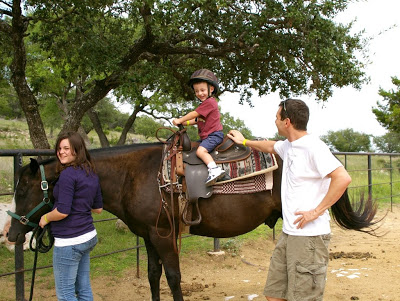 Cool Beans!