After 18 years of homeschooling, and 22 years of parenting,
you would think that I would have the chores and school thing down.
Parts of it I do.. but each house has different needs
and allows you to work in only certain ways,
and as the kids are nearing graduation from homeschooling
and starting college and work outside the home
I have to keep re-organizing schedules so they will work well.
When my kids were really young, before most people had
computers and internet, before
Fly Lady
existed,
I borrowed a book they wrote called
"Sidetracked Home Executives: From Pigpen to Paradise" from the library.
They suggested that you put together recipe box full of 3×5 cards
with a chore on each card. Each time you finished a chore
you went back to your box and moved to the next card.
It worked great.. for 3 months. I guess life happened after that.
I tried variations of the box idea several times; gave each of the kids a box
with chores and school work for them to do. I saw this one idea where you
have your kids wear their chore cards so they can't loose them.
I think Fly Lady did something similar called "Hipster." (fanny pack?)
That might have worked better for me than a box.
I hated having to go back to the box in the kitchen before doing my next chore.
Later we chose to use binders over boxes. None of it ever worked very well.
I think partly because the binders and/or boxes were not accessible enough for me
and I am sure I am lacking in skills in motivating, enforcing and policing
especially when moving and life keep happening.
A few years back I found this subject chart based on Charlotte Mason's
program of study. Hanging it up on the kitchen wall worked well for us.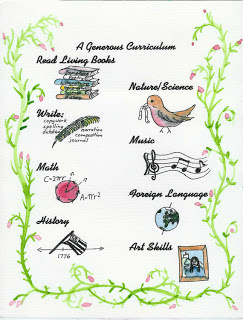 It was all I needed to keep us focused.
I always had all the kids up by 6:45-7 AM for family devotions,
then shortly after we started a list of subjects in a certain order
with chores in between and a lunch break in the middle.
All the books we needed for each subject were kept on a shelf
and/or a tote near where we did school and we just got the
next book down when we put away the one we'd finished.
We did/do as many subjects together as a family as we can;
such as art, science, history, Spanish, and music appreciation.
Then we do the rest individually.
If one of the kids needed help with a subject and
I was busy helping someone else, they were to work on their chore list.
I called chores breaks from school work. They resented it,
but physical work is a nice break from mental work.
That list evolved into this one.. It's a little more detailed and gave us a little more structure.
Some subjects worked better in the morning and others after lunch.
We've always thrived on a routine vs. a strict do math from 8 AM – 8:30 AM
schedule, so having a "Flow List" was great.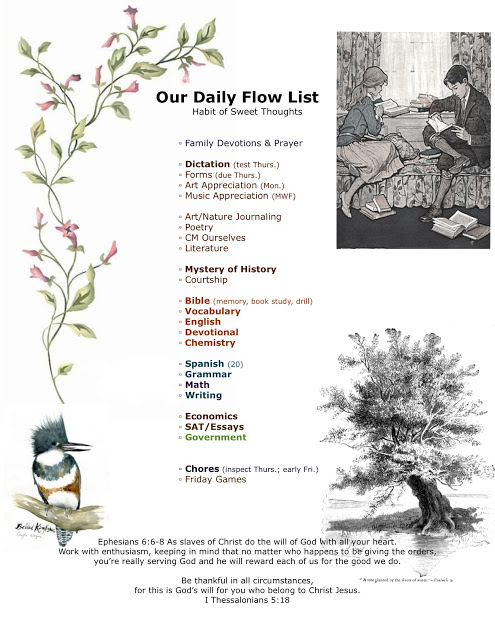 The subjects in bold were the most important ones to get done,
so if we had a field trip that day or some other interruption we focused on those.
Everything always worked out by the end of the year.
This poem by Gerard Manley Hopkins on giving glory to God
inspired me to use a Kingfisher to adorn our list.
As kingfishers catch fire, dragonflies dráw fláme;
As tumbled over rim in roundy wells
Stones ring; like each tucked string tells, each hung bell's
Bow swung finds tongue to fling out broad its name;
Each mortal thing does one thing and the same:
Deals out that being indoors each one dwells;
Selves–goes itself; myself it speaks and spells,
Crying Whát I do is me: for that I came.
Í say móre: the just man justices;
Kéeps gráce: thát keeps all his goings graces;
Acts in God's eye what in God's eye he is–
Chríst–for Christ plays in ten thousand places,
Lovely in limbs, and lovely in eyes not his
To the Father through the features of men's faces.
Since moving to our new house I've been having the hardest time keeping
up with who's supposed to be doing what chore.. and keep finding jobs undone.
Some of them traded chores and I think living in the apartment spoiled them.
I don't have as much wall space in this kitchen as I have before,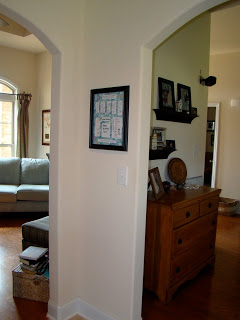 so I decided to try an idea I saw of using a picture frame as a chore/dry-erase
board and put all our chores and school work in one frame.
It's centrally located and there will be no more arguments on who
was supposed to do what and I can highlight things that are needing special attention.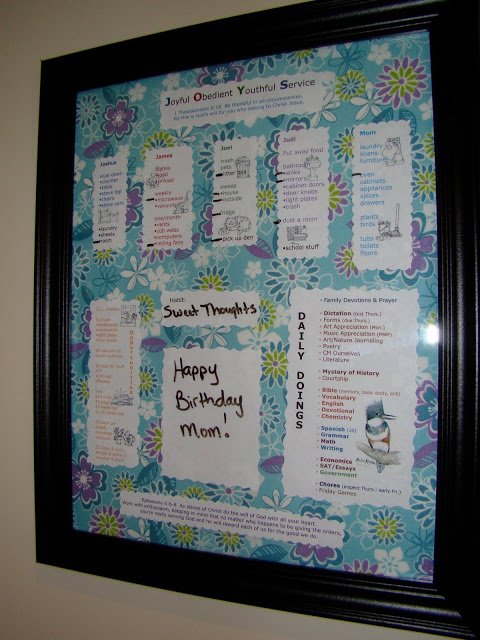 I hung up this plate to use as place to write inspirational quotes.
It works like a dry-erase board, too.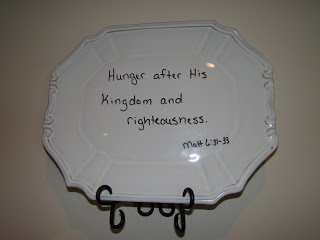 Love,
Jenny