Since Joel's home going I've been doing my best to survive from one event to the next: from Joel's Memorial Service to Christmas to New Years.. then Judi's Birthday which I didn't handle very well.  It snuck up on me.  It had always been extra joyful because for the next several months after Judi's birthday Judi and Joel were "only a year a part in age.." and suddenly, I had to deal with the idea that that joy was lost.. and just a few days after, the one month anniversary of not having Joel with us.  At times I was shaken with separation anxiety.   Every day was.. still is.. an exercise of not seeing Joel as dead but alive and well in heaven.  If I hadn't had the assurance of heaven…
In the second and third month, selling Joel's car, closing his bank account etc., all the chiropractor stuff started, Josh's birthday… then Spring Break, Passover/Easter and Mike's birthday all rolled into one.. then it was time to prepare for Joel's birthday and our trip to Texas.  Just listing the highlights is stressful.  Thank you, Jesus, for walking with me through the fire.
After getting through Joel's birthday/family reunion trip and Mother's day (also all rolled into one), I finally had some space just to be and discovered that it is also extremely difficult.  More of the shock is wearing off and I am feeling more of the pain of losing Joel.  As I shared in my last post, finding where to turn my sad thoughts was hard work.
Looking in from the outside must be puzzling.. "Five months have gone by.  Shouldn't you be better by now?"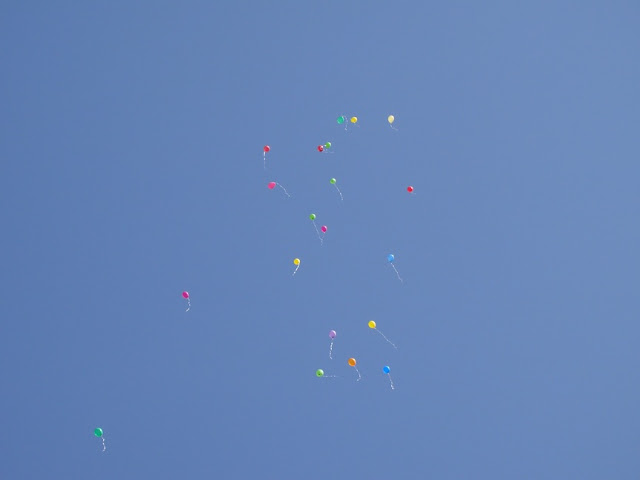 Balloons for Joel's 21 Birthday
The shock of losing Joel had protected me from feeling all the terrible things that have been happening around me like I normally do.  The horror of the shooting at Sandy Hook Elementary the day after Joel's memorial service.. I couldn't even process it.  A suicide in a near by school, the Boston bombing and the West Texas Fertilizer explosion.. I was numb…
The tornado this past week in Oklahoma was the first thing I felt.  I want to say like I used to feel.. but I am not sure if I feel the sorrow the same or different now.  Then this past Friday night, when I heard that one of Joel and Judi's friends from church, Cole, died in a motorcycle accident I just wept.  He was just a few months older than Joel.  The emotions are so overwhelming.  I didn't know how to pray beyond "God, help, please, help.."  Then yesterday morning I heard that there were deaths in the floods in San Antonio.  I feel surrounded by death.
My prayers have been weak.. despairing.. "God, help, please, help.. it's bad.. so many are suffering.. all around the earth.. wars.. famine.  God, and I know it's only the beginning.  God, please, help.. come to our rescue.. send revival.. send Jesus to take us home.  Help, God, help."  I keep remembering that He isn't slow to keep his promise to return and that He longs for all to be saved from 2 Peter chapter 3.  I long for their salvation, too … and feel selfish and unhappy with myself when all I want is for my suffering to end.
I've felt so lost, so alone this week.. not knowing how to deal with all the pain I am now feeling that the shock is wearing away. It felt like my only two choices were to live in despair with hardly a word beyond "help" to pray or buck-up and be hardhearted.  Seriously, that's the making of an atheist.. most are brokenhearted people who feel deserted by God.. and can't believe in a God who would allow all this suffering.
I knew that those couldn't be the only two choices.. that both those choices were wrong.. that there had to be another choice.  I am so broken that it was hard to see past my brokenness.  Even though I knew better, I couldn't see what the better was.  Open my eyes, Jesus.  To keep moving, I had to keep reminding myself that life wasn't about living for myself but for God and for others.
Then a friend called, and did something I couldn't do for myself, she loved me where I was; she listened and said that if "help" was all I could pray then that was exactly the right thing to pray.. the thing that needed to be prayed.  Her words were worth more than gold to me.  They set me free to hear the voice of Holy Spirit the next morning remind me to "Rejoice in hope" from Romans 12:12
"Be joyful in hope, patient in affliction, faithful in prayer."
Hope was the third choice.. the choice I knew there had to be.
The three phrases were exactly what I needed: to rejoice in hope.. to hope.. to keep finding joy in Jesus over and over again while going though suffering..  to be patient in affliction.. patient.. resting.. trusting in God's work.. and to be faithful to keep praying even when all I can pray is "help."  I texted a thank you and my revelation to my friend and she responded, "Yes, my friend you are right! Thank you for reminding me that our God is a God of hope and grace and He gives us His strength. I will choose hope too! Love you!"
I think I will be reading Romans chapter 12 all this week.  Don't miss it.
Verses 9-16 from the NIV
Love must be sincere. Hate what is evil; cling to what is good. Be devoted to one another in love. Honor one another above yourselves. Never be lacking in zeal, but keep your spiritual fervor, serving the Lord. Be joyful in hope, patient in affliction, faithful in prayer. Share with the Lord's people who are in need. Practice hospitality.

Bless those who persecute you; bless and do not curse. Rejoice with those who rejoice; mourn with those who mourn. Live in harmony with one another. Do not be proud, but be willing to associate with people of low position.  Do not be conceited.
Please,  pray for me as I continue to learn and relearn through this suffering and pray for my family as they have to live with me.. and work through their own grief and losses.  🙂
Love,
Jenny