I love having Bible verses with me to read when I am out and about..
I've taken mini verse books with me to Judi's gymnastics classes,
to pray over at the abortion clinic and to many doctor visits.
They've been a great tool for re-focusing my mind
and calming my spirit during this difficult time.
To turn a collection of verses into a mini book I first
divide my text into two columns and make the font very big.
I usually use Veranda 16. I like Veranda for it's clarity.
When I remember, I number the pages to help me keep them in order later.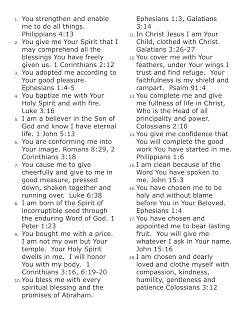 Next I go into the print menu and under "layout" choose
to print 4 pages per sheet from left to right.
Then I use a paper cutter to cut each page across the middle in half.
Then I fold each half page in half with the print on the out side.
The fold makes a very nice, thick, page edge for easy turning.
As I fold them I stack them in page number order.
Next I design a cover on a page length wise so that it's wide enough to
wrap around the pages and trim with a little bit of a lip left over.
I print it on card stock and trim it to fit.
Next I use a nail to punch holes through the cover and pages for binding.
I've tried paper punching and drilling the holes.. the nail seems easiest.
I use this crayon holder the boys made in Royal rangers for the nail to punch into.
I've seen home made clamps with holes drilled into them made
especially for book binding.. maybe I'll make one one day.
To finish up, I take some thick thread and sew it together.
I've been happy with how the books have turned out.
They last a long time. 🙂