"Suffering makes us want to go there [Heaven]. Broken homes and broken hearts crush our illusions that earth can keep its promises, that it can really satisfy. Only the hope of Heaven can truly move our passions off this world … and place them where they will find their glorious fulfillment. Suffering hurries the heart homeward." – Joni Eareckson Tada in "Heaven, Your Real Home
I had a good dream last night. Our whole family moved into a new home together. Joel was there helping me clean floors as he often did. Some of the kid's friends came over and our home was overflowing, loud and busy. I was very happy.. in my element.
I cried when I woke up to reality: Joel in Heaven, empty nest in a new state, far from my kids. As I surveyed my dream, I wondered if spending time in nostalgia was wrong. I don't normally leave space for nostalgia, so now my subconscious seems to have found it's own time for it in my dreams.
I am still unpacking and that has me pushing forward through a mire of grief as I choose which things must go to make room for this new life Mike and I are beginning.
I want to live in and enjoy the present. I want to live content and expectant of what God has for me… even when it includes sloshing through grief and letting things go.
In the present, eyes on the line ahead.

Since, then, you have been raised with Christ, set your hearts on things above, where Christ is, seated at the right hand of God. Set your minds on things above, not on Earthly things. For you died, and your life is now hidden with Christ in God. When Christ, who is your life, appears, then you also will appear with him in glory. Colossians 3:1-4
C. S. Lewis in Mere Christianity:
If you read history, you will find that the Christians who did the most for the present world were just those who thought most of the next. The apostles themselves, who set on foot the conversion of the Roman Empire, the great men who built up the Middle Ages, the English evangelicals who abolished the slave trade, all left their mark on earth, precisely because their minds were occupied with Heaven. It is since Christians have largely ceased to think of the other world that they have become so ineffective in this.
I press on for that…
"Well done, good and faithful servant.. Enter into the joy of your master!" Matthew 25:23

I was thankful this morning (as I've been many times) when I opened my email and read today's devotion by Joni Eareckson Tada. In it, she described how she uses her sweetest memories to "inspire hope."
She urges,
Let your memories be your handhold on heaven. Do you have memories of better times, happier days? Use those to help you look forward to when God will wipe away every tear; to when sorrow and sighing will be no more, and to when joy will overtake you.
(Her full devotion can be read here.)
In recent weeks, a theme song has been playing through my days. It's been a while since I've had one. I CHOSE this song by Chris Tomlin:
You're a good, good, Father.
It's who you are.
And I am loved by You.
It's who I am.

You are perfect in all of your ways to us.
He is perfect in all of His ways.
Allowing pain, suffering and death after the fall is one of His good and perfect ways whether or not I like or understand it.
Sending Jesus to suffer, die and rise again for our redemption. – His perfection and goodness on display.
The return of Jesus, the death of death and pain and sorrow, and a new heaven on a new earth. – His perfect goodness to come.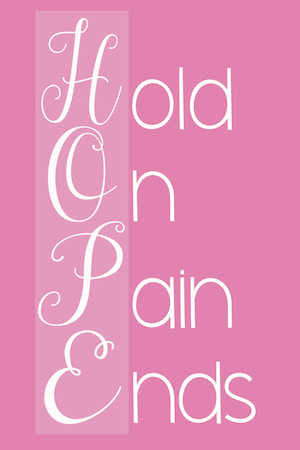 A big part of the battle of persevering through trial is REMEMBERING that all His ways are good and perfect and that He gives good and perfect gifts.
Did you hear that?

And yet this I call to mind and therefore I have hope… Lamentations 3:21
Reading devotions, choosing theme songs, meditating His goodness and hiding His Word in my heart helps me to remember, to press in, to feel loved, accepted, and cared for in the middle of my suffering; to see the bigger picture beyond my current circumstances.
Blessed is the one who perseveres under trial because, having stood the test, that person will receive the crown of life that the Lord has promised to those who love him. James 1:12
Every good and perfect gift is from above, coming down from the Father of the heavenly lights, who does not change like shifting shadows. James 1:17
Sweet memories of little ones huddled around me, sweet memories of days like my last one spent with Joel, sweet memories of a house overflowing, loud and busy are good gifts from a good, good Father.
His Word, the fellowship of His sufferings, His promises to never leave or forsake me, and to work all things together for my good are perfect gifts from a good, good Father.
REMEMBERING His gifts… the gift of His Son, and of His Comforter, the gifts of time spent with family and friends past and present, the gifts that come with each new day, and the gifts of forever in Heaven.. can fuel my hope and help me persevere through trial.
The bitterness of losing Joel has given even my sweetest memories an aftertaste. My dreams were shattered. My heart still feels broken, battered, and bruised. There is a great divide between the me before losing Joel and the me that I now wake up to.
Let perseverance finish its work so that you may be mature and complete, not lacking anything. James 1:4
Sometimes it seems easier to forget the tainted sweetness of the past and to just keep pushing through to the unending sweetness to come, but I won't be truly whole until I am able to love God with my whole heart and allow Him to use my whole story for His glory.
Part of my heart lies listless, but I believe that hope can help mend it, so I continue to remember and to pray to the One who came to heal the brokenhearted My Year Long Prayer:
Teach me Your way, Oh LORD, that I may walk in Your truth. Give me an undivided heart that I may fear Your Name. Psalm 86:11
If keeping my eyes on the line can make me more useful on this earth, persevering through trials can make me mature and complete, and drinking from the cup of sweet and bitter memories can be used to fuel the sweet hope of Heaven, then they are goals worth pursuing.
Lamentations 3:
13 He pierced my heart
with arrows from his quiver.

18 So I say, "My splendor is gone
and all that I had hoped from the Lord."

19 I remember my affliction and my wandering,
the bitterness and the gall.
20 I well remember them,
and my soul is downcast within me.
21 Yet this I call to mind
and therefore I have hope:

22 Because of the Lord's great love we are not consumed,
for his compassions never fail.
23 They are new every morning;
great is your faithfulness.
24 I say to myself, "The Lord is my portion;
therefore I will wait for him."

25 The Lord is good to those whose hope is in him,
to the one who seeks him;
26 it is good to wait quietly
for the salvation of the Lord.