The story of Cinderella is one of my favorites. I love it because it's a picture of Jesus and His bride the Church. We may be living in the remains of fallen cinders and ashes, but we were created for a wonderful Person and Place. Underneath our ashes there is beauty waiting to be revealed. The whole earth groans to see it (Romans 8:19). One day even our fallen cinders will be redeemed, set free from the curse and made new.
"Look, I am making everything new!" – Revelation 21:5
Jesus, the prince of our real Story, has made all of this possible. The Desire of the Nations, left His heavenly kingdom to seek and save the lost (us). He paid our debt of sin (the death penalty) on the cross and rose again to set us free from our bondage and slavery.
Jesus, the One who was dead but is now alive, has gone to prepare a place for us and has given us hope for our ashes and a promise:
"When everything is ready I will come and get you, so that you will always be with me where I am." – John 14:3b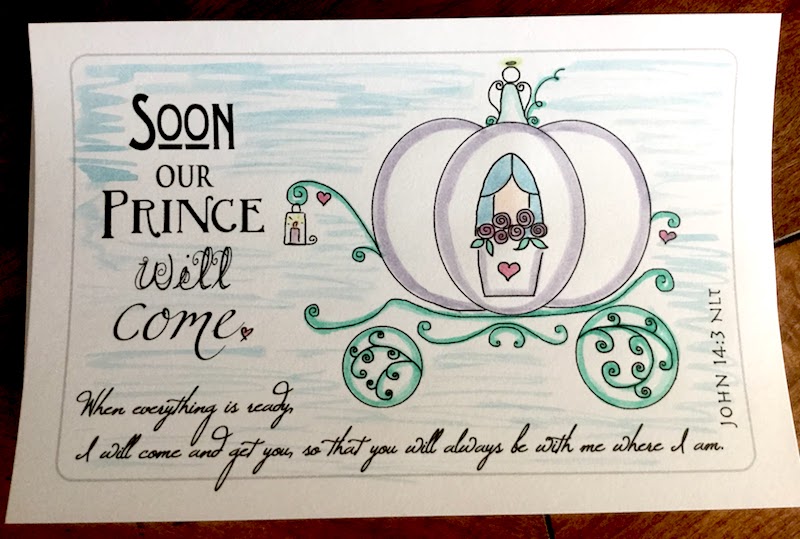 The best part of Cinderella's story is the anticipation and hope of the "happily ever after" that's coming. Remove the hope and the "happily ever after" ending and the story changes from a beautiful story of redemption into a horror story of loss, slavery and death.
1 Thessalonians 4:16 For the Lord himself will come down from heaven, with a loud command, with the voice of the archangel and with the trumpet call of God, and the dead in Christ will rise first. 17 After that, we who are still alive and are left will be caught up together with them in the clouds to meet the Lord in the air. And so we will be with the Lord forever. 18 Therefore encourage one another with these words.
We are to "encourage each other with these words." The promised hope and "happily ever after" gives us the strength and courage to keep pressing toward the goal when all we see for miles is the remains of fallen cinders and ashes. Without hope we are living in our own horror story.
Cinderella has an enemy, her wicked step mother. She lies to Cinderella and steals her inheritance bit by bit. She tells her there is no chance a prince would ever even consider looking her way and dashes her hopes of ever being free. Her wicked step mother does all she can to keep her oppressed and enslaved.
We, too, have an enemy – the devil – the accuser – the one who:
"When he lies, he speaks his native language, for he is a liar and the father of lies." – John 8:44c
He has accused and lied to us about every part of our Story and endeavors to dash any hope of a "happily ever after" to come.
His accusations are the same as they were in the garden (Genesis 3). "Did God really say?" "You won't really die." "God is holding out on you." "His intentions towards you are less than honorable." "He is not sovereign or holy." "Sin will empower you." "Doesn't it look good?"
He has oppressed us and enslaved us and accused us of being unworthy of anything more than cinder and ashes. He has accused Jesus of being at best disinterested in us. The devil was kicked out of Heaven and resents all those who will inherit it, so he has accused it of being filled with nothing more than cherubs strumming harps while floating on clouds. He makes it sound excruciatingly boring and insipid. Who would ever want to live that f-o-r-e-v-e-r? How could that kind of heaven even begin to inspire us to press towards or through anything?
Something has gone terribly wrong in our real Cinderella Story. Too many have bought into the devil's lies and their longing for our Bridegroom and His Heavenly reward has been turned into loathing. The good news of the gospel has been reduced to a lesser hell; a horror story. Believing that there is nothing after this and that there was never any god sounds more appealing.
Reclaiming a biblical view of our Story, Heaven and the New Earth is essential. Without it we have no hope, no motivation to tell anyone the good news of the gospel and no motivation to press towards the goal (Philippians 3:14).
If only for this life we have hope in Christ, we are of all people most to be pitied. – 1 Corinthians 15:19
God created us for so much more than insipidness. He created us for a wonderful Person and Place full of beauty and adventure. We need Cinderella's hopeful perspective to help us persevere through our Story of fallen cinders and ashes. We need a biblical view of Heaven and Jesus and our Cinderella-self.
I have known that Jesus was my Prince and that I was His Cinderella bride to be since I was a little girl and looked forward to a "happily ever after" with Him. I was fortunate never to buy into the lie that Heaven was insipid. But my understanding of it was ethereal at best; a great retirement plan for when I was 90 or so.
It wasn't something I could sink my hope anchor (Hebrews 6:19) into when the storms of this life toss me violently around. It wasn't something that could strengthen and encourage me when all I saw for miles was the remains of fallen cinders and ashes.
When our very real boy moved to Heaven, I realized I needed a very real idea of where he had gone. I needed the "eternal perspective" that understanding God's redemptive plan for our resurrection and Heaven come down on a New Earth affords to carry me through the valley of death's shadow.
I've slowly gained that. Spending time meditating on the Word with an eye towards gaining an eternal perspective helped. Reading strongly biblically based books like Randy Alcorn's "Heaven" helped. I can see now that the place we live.. this earth.. is the thing that is vanishing like a vapor and our glorious resurrection, Heaven and the New Earth are the real, solid promise and hope that hold my anchor secure.
Our life here is passing quickly away and our lives in Heaven and the New Earth will be the ones that last forever. Joel is more alive now than he ever was here. Heaven is more enduring than anything we've ever experienced.
Jesus said:
"I have told you these things, so that in me you may have peace. In this world you will have trouble. But take heart! I have overcome the world." – John 16:33
If we fail to gain Cinderella's hopeful perspective and fail to love the Person and the Place we were created for, then when trouble comes we won't have anything to sink our hope anchor into. Jesus' "take heart!" will leave us stupefied and lost in our ashes.
We are in enemy territory surrounded by fallen cinders and ashes. We live on a cursed planet. Trouble will come. We have a Prince who has overcome it. We have something to "take heart" in. We need an "eternal perspective." A hopeful perspective like those who love the Cinderella story have. One that can see through the lies of the enemy to a very real, solid, promised and true "happily ever after" that is coming.
Link to Randy's book:
Much love,
Jenny