I have a habit of spending the last several weeks of the year in prayer asking the Lord for direction for the new year. Last year He answered, "Whatever 2018 brings, focus on My love for you."
Although the first part of His answer was full of reminiscent premonition, He gave me the grace to trust and obey. I'm so thankful. Some long, hard days and weeks were made bearable by the transformative grace of focusing on His love. There were a few days where I lost focus. He was faithful, so faithful, to redirect me back to His love. [PDF of verses on God's love here.]
Suffering calls into question God's motives and authority. It begs the same questions that the serpent asked Eve in the garden: Did God really say? Is what He said true? What is He keeping from you? What are His secret intentions?
How do we turn these questions over on their head?
We choose to view our circumstances in faith through the lens of His great love by skillfully wielding His Word. Like night vision goggles, His Word pierces the darkness and collects the hidden rays of Light and Truth.
Yet I still dare to hope when I remember this: The faithful love of the LORD never ends! His mercies never cease. (Lamentations 3:21-22 NLT)
God loves us. There is no shadow of turning in Him. Jesus is proof of His love. If we ever doubt His love for us, we can look at Love come down in the flesh suffering the cross for us. He loves us all the way from Heaven to earth and back. His arms are stretched wide bidding us to make our home and find our rest in His love.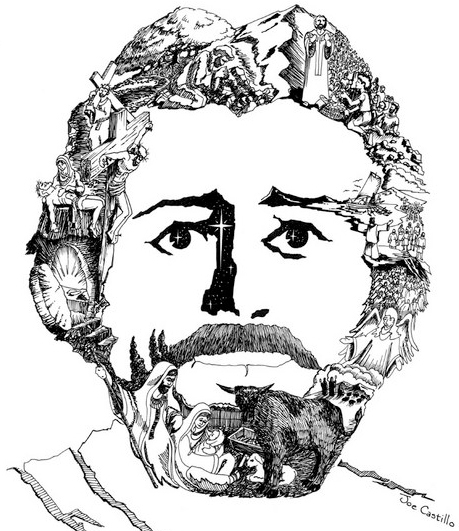 He saw us, knew us and called us to Himself before He formed us. Before the foundation of the world, God knew that having us for His own treasured possession would cost Him the life of His only begotten Son and counted us worth it.
Christmas is Immanuel, God with us. Nothing can separate us from His love. Our High Priest understands our weakness, knows that we are dust, made Himself nothing, took on servanthood and became obedient to a terrible, shameful death on the cross. The same God that determines the number of the stars and calls them each by name heals the brokenhearted and binds up their wounds with His love.
He is the Good Samaritan who sees us suffering on the side of the road and is moved by compassion to save us. Unlike all others who turn away and pass by on the other side, He runs to us, pours Himself out for us, clothes us with His own robe of righteousness and seals us with His promised Holy Spirit.
He has set His love on us. We are the joy for which He endured the cross, the apple of His eye, His promised bride. Nothing touches us that doesn't touch Him. His wings are our refuge. He sees our tossing and turning through the night and collects our tears in His bottle. Nothing can snatch us out of His hand.
In all their suffering He also suffered,
and He personally rescued them.
In His love and mercy He redeemed them.
He lifted them up and carried them through all the years. (Isaiah 63:9)
In this fallen world, suffering is the price of love. The cross is proof that God sometimes allows what He hates in order to accomplish what He loves. God works all things together for the good of those who love Him. His intention is to conform us into the image of His Son who suffered and died for us.
We endure suffering and become more than conquerors through Him who loved us by fixing our eyes on Jesus as our highest joy and great reward. We know that though weeping endures for a night, joy comes in the morning. One day soon all pain, sorrow, morning and death will end. He will personally wipe away our tears and give us a great and glorious inheritance. These truths are a buckler for us through our suffering. We pray daily for others to know and rely on them.
Therefore we do not lose heart. Though outwardly we are wasting away, yet inwardly we are being renewed day by day. For our light and momentary troubles are achieving for us an eternal glory that far outweighs them all. So we fix our eyes not on what is seen, but on what is unseen, since what is seen is temporary, but what is unseen is eternal. (2 Cor. 4:16-18)

The Spirit himself bears witness with our spirit that we are children of God, and if children, then heirs—heirs of God and fellow heirs with Christ, provided we suffer with him in order that we may also be glorified with him. For I consider that the sufferings of this present time are not worth comparing with the glory that is to be revealed to us. (Romans 8:16-18)

I want to know Christ and the power of His resurrection and the fellowship of His sufferings, being conformed to Him in His death, and so, somehow, to attain to the resurrection from the dead. (Philippians 3:10-11)

Beloved, do not be surprised at the fiery trial that has come upon you, as though something strange were happening to you. But rejoice that you share in the sufferings of Christ, so that you may be overjoyed at the revelation of His glory. (1 Peter 4:12-13)

For to this you were called, because Christ also suffered for you, leaving you an example, that you should follow in His footsteps. (1 Peter 2:21)
Praying that this year will be a year of transformative grace as you delve in deep into the truth of His love for you.
I collected a list of 100+ verses to help me meditate on God's love and posted it as a PDF for you here.
Jenny