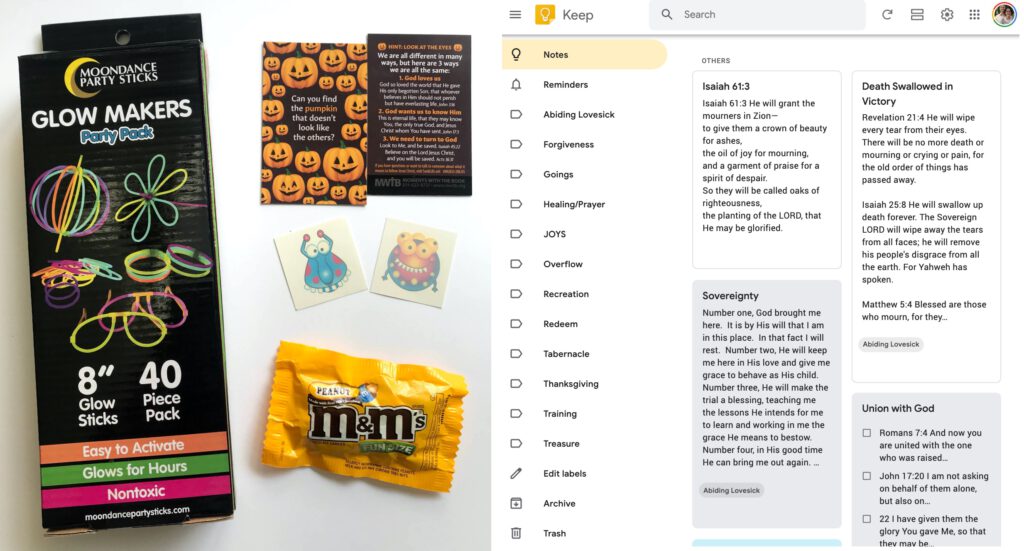 I drove by a yard decorated with plastic tombstones for Halloween this week. It was hard on my heart.
It triggered thoughts of death, darkness, and the deep pain of losing someone you dearly love.
Innocent pastimes like Clue, the Mafia party game, and Murder Mystery Dinners are no longer innocent or mysterious for me. I do still really enjoy seeing kids' creativity and joy in dressing up in some of the nicer Halloween costumes and I've already bought glow bracelets, temporary monster tattoos, candy and tracks to pass out to the neighborhood kids.
I dreaded the drive back home past the play cemetery the other night. Then flenched when I saw it a second time and I prayed for those I know who are hurting this season. I acknowledged in my heart that the decorations aren't going to get any brighter as the years go by and determined that I needed change what seeing death celebrated triggers in me.
I asked myself, "What thoughts can I connect to tombstones that would help heal my battered soul?" My heart answered, "The death of death! The day God swallows up death forever! The day we will celebrate Jesus' victory over death, our last enemy! The day God will tenderly wipe away every tear from our eyes!" Oh, how I long for that day!
I compiled a list of "Death Swallowed in Victory" verses to help my heart in those triggered moments. Training my mind and renewing my heart will take a while, but I know Jesus gives beauty for ashes. I included a photo above showing how I use Google Keep to keep lists like it in my phone. Sharing it here for those like me who may need the brighter thoughts they inspire:
Revelation 21:4 He will wipe every tear from their eyes. There will be no more death or mourning or crying or pain, for the old order of things has passed away.

Isaiah 25:8 He will swallow up death forever. The Sovereign LORD will wipe away the tears from all faces; he will remove his people's disgrace from all the earth. For Yahweh has spoken.

Matthew 5:4 Blessed are those who mourn, for they will be comforted.

Isaiah 60:20 Your sun will no longer set, and your moon will not wane; for Yahweh will be your everlasting light, and the days of your sorrow will be over.

Revelation 7:17 For the Lamb in the center of the throne will be their shepherd. He will lead them to springs of living water, and God will wipe away every tear from their eyes.

Romans 8:38-39 For I am convinced that neither death nor life, neither angels nor principalities, neither the present nor the future, nor any powers, neither height nor depth, nor anything else in all creation, will be able to separate us from the love of God that is in Christ Jesus our Lord.

2 Corinthians 5:1 Now we know that if the earthly tent we live in is dismantled, we have a building from God, an eternal house in heaven, not built by human hands.

John 11:25-26 Jesus said to her, "I am the resurrection and the life. He who believes in me will still live, even if he dies; and every one who is living and is a believer in me will never, never die. Do you believe this?"

1 Corinthians 15:54-56 When the perishable has been clothed with the imperishable and the mortal with immortality, then the saying that is written will come to pass: "Death is swallowed up in victory." "Where, O death, is your victory? Where, O death, is your sting?"

Psalm 16:7-11
I will bless Yahweh, who counsels me;
even at night my heart instructs me.

I have set Yahweh always before me.
Because He is at my right hand,
I will not be moved.

No wonder my heart is glad
and my glory rejoices;
my body also rests in safety.

For You will not abandon
my soul among the dead,
nor allow your faithful one to see decay.

You cause me to know the path to life;
fill me with joy in Your presence,
everlasting delight at Your right hand.
Much love and grace,
Jenny